If you read this blog, you might be aware that I am currently taking my Teacher-Librarian Part 2 AQ (Additional Qualification) through Queen's University. Some of the tasks that we are doing involve reading articles and synthesizing information in different ways. It may not come as a surprise that I have been using Canva for a lot of these things.
I thought I would just post a few to share out.
Copyright Matters: I had to give the document a re-read and I focused in on videos as that has been a question that has come up in our Home & School meetings and in my work with different teachers.

2) How I can support teachers: I think that Health and Media Literacy go hand in hand. You can also do a lot of information literacy when looking at different health topics. I created this little postcard to promote how a teacher and I could collaborate. I have to admit, my first go at this one was not my best work. Lessons were learned. I work better in the morning and not late at night. But, with a little inspiration and feedback through my instructor and peers, I was able to bump this one up.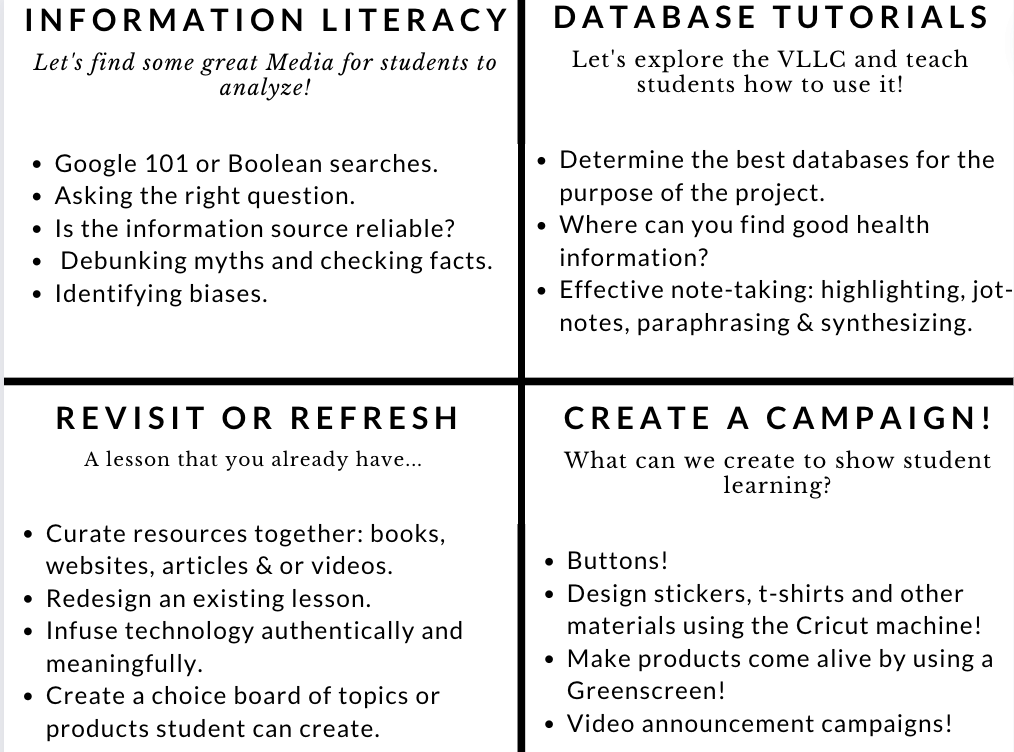 3) How can I help you online? I feel confident that we will not be returning to online learning anytime soon. But this assignment took me back. Here is how I supported teachers virtually the last time we were online.
4) This week, the focus has been on the LLC Learning Environment. Tomorrow I will be measuring the walls of my space and doing a floor plan using "Room Sketcher", which I have downloaded and have been playing around with. I am going to try and do a floor plan that is to scale. It might be a useful tool as I rethink my space this summer. I may have to post it in a future blog post. Here is a "tip sheet" that I created for teacher-librarians when it comes to the LLC as a Learning Environment based on several articles I read in this 4th Module (of 8).
I certainly feel like I am learning a lot. It is nice to have great articles about the Library Learning Commons curated by someone else to read with my coffee. I am having a lot of fun creating these things and discussing what others in my course make as well. I may actually use some of these in the future, or an iteration of them. There is a certain amount of marketing ourselves in the LLC.
Under each item, I have attached the link to the Canva file. Often, I am using templates created by others. Feel free to make a copy and edit it for your own purposes!
Featured Photo by AbsolutVision on Unsplash